With a wide variety of windows, doors, and roof systems available on the market and each one offering a different industry accreditation or trade association, it is not easy to decide which product is right for you, or more importantly – your homeowner customer.
This is why we have created this quick summary of accreditation standards and trade associations within the glass and glazing industry to help you.
For peace of mind, you can have the extra comfort that here at Central Window Systems, we do not simply supply and install windows and doors to comply with a list of standards – we work tirelessly to exceed them and elevate the industry standard for excellence too.
Accreditations
British Fenestration Rating Council (BFRC) – The BFRC is the UK's most trusted and widely-used rating council for verifying the energy performance of windows and doors. Their rainbow-coloured window energy rating (WER) scheme is used to measure and identify energy efficiency levels. So, an A++ energy rated window would be the most energy efficient and an E+ rated window would be the least energy efficient.
Excellence as Standard – Excellence as Standard is an industry-wide, elective charter for extruders, fabricators and installers across the globe and glazing industry. We are pleased to say that our composite doors have achieved this status, giving you and your homeowner customer peace of mind that our composite doors are completely committed to quality.
Related product: Composite doors
FENSA – FENSA is a government-authorised scheme that ensures replacement window installations comply with the building regulations for England and Wales. Every FENSA Approved Installer is regularly assessed by us to ensure its standards are continually maintained.
Forest Stewardship Council – What is Forest Stewardship Council FSC certification? Also known as FSC, the Forest Stewardship Council is an international, not for profit organisation that promotes sustainability and the responsible management of the world's forests. The FSC accredits third party organisations, such as BM TRADA who certify forest managers to the standards required by FSC.
Glass and Glazing Federation (GGF) – The GFF is a government-recognised federation that represents and monitors companies that manufacture, supply, or install glass and glazing products in the UK and internationally.
Loss Prevention Standard – Also known as LPS, the Loss Prevention Standards have been produced to help ensure that a product or service meets the needs of users. Here at Central Window Systems, we hold LPS1175 (SR2), a standard that is more determined opportunist attack with tools of mechanical advantage, for example, SR1 tools plus bolt cutters, claw hammer, drill, etc.
Publicity Available Specification – Also known as PAS, it is the UK Police initiative to reduce burglary and crime by better design solutions.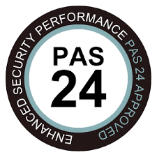 There are many different PAS standards, and we are pleased to say that our windows have achieved PAS24: 2016 status. Achieving this status shows that our windows have passed rigorous tests that are based on a criminality threat in a residential environment.
Related product: Aluminium top-swing-reversible window.
PWF – The PWF 'Trusted Installer' mark is comprehensive insurance-backed guarantees and deposit protection to customers of a network of members who install windows, doors, conservatories, and more.
Recovinyl – Recovinyl is an organisation that continues to monitor and verify the recycling of PVC waste and the uptake of PVC recyclate. The company guarantees the credibility of the recycling achievements, through the strict implementation of an audit protocol.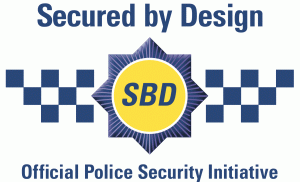 Secured by Design – What does Secured by Design mean?
Also known as SBD, Secured by Design is the official police security initiative that works to improve the security of buildings and their surroundings. The main concept is to provide safe places to live, work, shop, and visit. It is the only way for companies to obtain police recognition for security-related products in the UK. Our products recently achieved 'Secured by Design' status.
Related product: Aluminium casement windows.
Certificates
Q-Mark certificates – The Q-Mark certificates provide reassurance that your products, whether be it doors or windows, are consistently manufactured to a high quality that will satisfy Secured by Design standard. At Central Window Systems, we hold the following Q-Mark certificates:
Q-mark certification BM Trada enhanced security door UKAS product certification
Q-mark certification BM Trada enhanced security window UKAS product certification
Q-mark certification BM Trada window general performance UKAS product certification
Central Window Systems has become one of the Midlands' largest fabricators of PVCu products
A leading manufacturer of PVCu and aluminium products for installers, Central Window Systems offer the most advanced window and doors available on the market. Delivering products to you on-time, in full and in pristine condition ensuring your professional installation is completed with the support you expect from your supplier. Contact us or call us on 0121 500 0505 and get your windows and doors today.
Read our related blogs:
Merging Central RPL and Central ASL
Central RPL invests in machinery to support growth