At Central Window Systems, we supply high quality windows and doors designed to offer the perfect combination of style, security, and efficiency. Every home is unique, and ensuring every homeowner gets the right look to suit their needs can mean more than just the colour or glazing type. The Heritage 2500 and Heritage 2800 windows we provide can each offer a slightly different appearance that can make all the difference when it comes to the final finishing touch.
But what actually is the difference between Heritage 2500 and Heritage 2800? How are they similar? Which one is right for my customers or home? Read on to discover the answers to these questions, or start a quote instantly using our online quoting engine.
Differences Between Heritage 2500 and Heritage 2800
The primary difference between Heritage 2500 and Heritage 2800 is the shape of their frames. While both styles are suitable for a plethora of homes, each type can carve its own niche to be the finishing touch that brings the entire package together. The hardware, colours, opening styles, and sizes can all be customised to match classical properties or contemporary homes.
Heritage 2500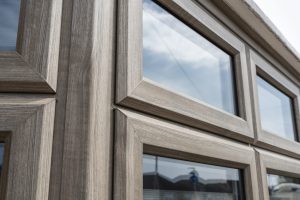 The Heritage 2500, also known as Chamfered windows, have a flatter and more angular design to their frames. This subtle yet sharp design style can be the perfect choice for homeowners looking for a clean and uninterrupted look. 
These windows are available in 42 colours, including dual colours and the option to have your windows sprayed in nearly any shade. The Heritage 2500 windows we offer can be customised to match up with virtually any existing aesthetic or create an entirely new one!
Heritage 2800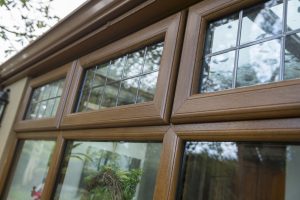 Compared to the Heritage 2500's smooth and flat edged frames, the Heritage 2800 window range has subtly curved profile edges. Also known as Sculptured sash windows, this profile type can create a sense of elegant tradition for any older home while offering incredible modern efficiency. This range is also available with mock sash horns or French casement styles, making them ideal for more traditional homes looking to increase their energy efficiency.
Heritage 2800 windows are available in a range of hand picked high quality woodgrain finishes, with each one capable of seamlessly blending into natural environments. The PVCu used for our Heritage 2500 and Heritage 2800 ranges is incredibly durable and lightweight, but with these accurate woodgrain foils, any home can continue to maintain its timber aesthetic. Additionally, the Heritage 2800 can come with an exquisite classical Georgian bar
Similarities Between Heritage 2500 and Heritage 2800
While there are a few distinct differences between Heritage 2500 and Heritage 2800, they also offer many similarities when it comes to their high end performance. Both of our Heritage 2500 and Heritage 2800 models are created using durable PVCu. This means that compared to wooden windows, they are both incredibly low maintenance. PVCu can maintain its shape without warping or bending for years, only requiring an occasional cleaning to keep them looking fresh. 
Both frame styles offer highly efficient double glazing to maximise heat retention while providing ample sound proofing. Homeowner's can stay warm and dry while enjoying newfound peace and quiet with the help of our cutting edge window designs. Double or triple glazing is available for both ranges, and they can each reach an astounding A++ energy rating and a U-value of 0.8. 
Not only will each of these window ranges be able to create a brand new look for homes, but they can even help to reduce homeowners energy bills! By increasing thermal performance, homes can stay at a more comfortable temperature even in winter without needing to rely on utilities like gas or electricity as often. Offering homeowners the Heritage 2500 or Heritage 2800 range windows can be a worthwhile investment that lets them save money and their environment.
Central Window Systems For Heritage Range Windows
Choose Central Window Systems as your trusted suppler of Heritage 2500 and Heritage 2800 windows. We offer expedient lead times and a wide range of marketing and technical support. With over 41 years of experience as one of the Midland's largest fabricators of PVCu and aluminium home improvement products, you can rely on us for a consistent, fast supply of Heritage 2500 and Heritage 2800 windows.
Heritage Window Prices
Looking to get bespoke marketing support for our Heritage 2500 and Heritage 2800 windows? Become a Central installer today and sign up to our Central Hub to get everything from brochures to installation guides. Get a trade quote for our Heritage 2500 and Heritage 2800 windows for free now with our online quoting tool. For more information about the differences between Heritage 2500 and Heritage 2800, call us directly at 0121 500 0505 or fill out our online contact form with your queries.